January 14th, 2014
To our beloved clients:
Unfortunately we are STILL having issues with people receiving their vaccination reminder cards through the post. If you would like to ensure that your pets vaccination reminders get you on time (or at all in some cases) please phone the clinic and give us your e-mail address. This will be used ONLY for vaccination reminders.
Wishing you all a safe and happy week!
~Jen, Reception
---
---
December 24, 2013
Merry Christmas from the staff of Westside Animal Clinic!!
We will be closed until December 27th, 2013 when we will open for regular business hours. Should you need anything please call Edmonton Veterinary Emergency Clinic at 780-433-9505 or Guardian Veterinary Centre at 780-436-5880. There is also a new emergency clinic in north Edmonton called VetEmerg and can be reached at 780-423-9111.
---
The holidays are a joyous occasion but there are a few dangers to pets to watch out for at this time of year. Poinsettias can be toxic to pets if eaten. Chocolate is always a danger and should be kept in locations that pets are unable to reach, tinsel and other Christmas tree ornaments can be dangerous if swallowed, and holiday treats and foods can cause stomach upset to your furry friends. If you have any questions or concerns please call one of the emergency clinics and someone will be happy to help you.
---
Wishing you all the best!
~Jen, Reception
---
---
August 13, 2013
Today Dr. Danesik and Receptionist Jen went on a tour of the "Part of the Family Pet Memorial Centre" at 11904 - 113 Avenue. We were very pleased to be greeted by polite and friendly staff (Brent), and were taken on a tour of the building. We found the environment to be clean, warm and inviting. They had an array of different services available for people dealing with the loss of their beloved friends; from communal cremation, private cremation and custom urns, to full funeral services with a burial site becoming available soon. They also offer grief counseling for those coping with pet loss, a service that is currently difficult to find in this city.
Should you require some help getting over the loss of a furry family member or want a more ceremonious send off for your best friend we recommend checking them out.
http://www.partofthefamily.ca/
---
Wishing you all the best during the "dog days" of summer!
~Jen, Reception
---
---
July 25, 2013
We have received and e-mail from the ABVMA pertaining to jerky treat recalls and certain health issues that have arisen from their use. Please follow THIS link for further information. If you have been giving your pets jerky treats and have been seeing health problems please contact your veterinarian for more advise. Discontinue use of jerky treats and dispose of any remaining supplies. Please be cautious when using pet products manufactured in China. This includes treats, foods, toys and grooming products.
---
For those of you that are unaware, we also have a Facebook Page! We try to update it regularly and share with you some of the good times and information we get here at the clinic. Check it out!
---
Hoping you and your pets have a safe and happy summer!
~Jen, Reception
---
---
July 9, 2013
On Friday, Wallace came in for an exam because he seemed painful and itchy around his collar area. We had suspected it was a hot spot, which is an area of skin that is usually raw and inflamed because of licking, chewing or scratching. Wallace seemed down and a little timid when he first entered the building. Once the vet saw him and decided we needed to shave the area we discovered the source of the problem.
Unbeknownst to his family someone had put an elastic band around his neck. His fur is so long and thick that the elastic was not visible. It was so tight that it had cut into the skin in three places and the wounds became infected.
After sedation the elastic was removed, his neck was shaved completely and the wounds were cleaned and bandaged. Wallace woke up quickly. Once he was on his feet again, with tail wagging, he came around to all the staff for pets, gave us kisses and laid his head in our laps.
We knew that he was saying thank you to us for getting that thing off his neck and making him feel better. He seemed like a totally different dog.
Three days later he came back for a bandage change. When he got in the doors he seemed like a regular, happy dog. He gave kisses immediately and was bright and alert. The wounds were on their way to healing and everything seemed to be going well. We expect he will make a full recovery!
An elastic band is dangerous. Even if it does not seem very tight, it can cut skin over time. Worse still, it can cut off blood circulation and cause tissue death of the entire area past the point of constriction. Wounds caused in this manner often become severely infected placing the pet's life in jeopardy. Never place an elastic band on any part of your pet's body.
Because of the nature of the photographs we have placed them on a different page, found HERE, so that people that don't want to see them don't have to look.
---
Hoping you all have a happy, healthy week!
~Jen, Reception
---
---
June 22, 2014
Hoping the month so far has found you well! I recently wrote up an article on marijuana toxicity in pets that I'd like to share with you all. Its not the most commonly known problem but we have been seeing it a little more recently so I hope this information will be helpful to some of you.
---
Marijuana toxicity in Pets
Although marijuana toxicity is not typically lethal on its own, it depends on the situation. If you suspect your pet is having a reaction to ingestion or inhalation of marijuana please contact your vet immediately.
SYMPTOMS:
The clinical symptoms of marijuana toxicity are often neurological. Dogs and cats can experience lethargy or hyperactivity (or swings between both), hypersensitivity to noise or motion, in-coordination and loss of balance, hallucinations, agitation, irritability, seizures and coma. It can also affect heart rate, respiration, body temperature, pupil dilation and bowel and bladder control. Occasionally it can cause vomiting, diarrhea, dry mouth or excessive drooling. Many pets will be unwilling or unable eat or drink in this state and dehydration can become a big concern.
INGESTION:
One of the key hazards is ingestion of marijuana in a food product. Brownies, cookies and cakes are often made with chocolate which can cause huge problems for your dog or cat. Chocolate ingestion can cause vomiting, diarrhea, heart problems, tremors, seizures, coma and death. One of the ways your veterinarian will deal with chocolate ingestion if caught soon enough is to induce vomiting. The anti-nausea properties of the marijuana can make this more difficult and lead to prolonged uptake of the toxin in the pet's digestive system.
If the food product or the plant matter is wrapped up in plastic food wrap, a plastic bag, or tinfoil and your pet eats it wrap and all there is a good chance that this can cause a blockage in your pet's digestive system. A blockage can be very painful and lead to an expensive surgery or death if not caught soon enough.
INHALATION:
Although less likely to cause severe clinical symptoms, second-hand smoke inhalation is also problematic for pets. Remember that your dog, cat, and other household pets are much smaller than you are so it takes a much smaller amount of smoke for them to be affected by it. Even just being in the same room can cause intoxication. Smoke inhalation of any sort, be it marijuana, tobacco, or even incense is not safe for cats and dogs with allergies, asthma, or pre-existing respiratory conditions and can cause respiratory problems in pets that are otherwise healthy. Residue from the smoke can be left behind in your pets lungs and sinuses causing coughing, sneezing and could lead to a secondary infection.
If you must smoke, the recommendation is to be outdoors or in a separate room from your pets with proper ventilation. NEVER blow smoke into your pets face.
TREATMENT:
In all cases the method of treatment is variable depending on how the pet was exposed, if there are other toxins in the system (like chocolate), severity of symptoms, and time since exposure. Your vet does not need to know who it belonged to or where it came from, but make sure you give them all the information to help make the treatment process more effective. Some of these symptoms can be attributed to other diseases and illnesses and your full disclosure can help save time and avoid unnecessary diagnostic testing. Your vet may need to induce vomiting, administer IV fluids, give activated charcoal, or hospitalize your pet for intensive care, monitoring, and therapeutic drug administration.
---
Wishing you a wonderful weekend!
~Jen, Reception
---
---
May 24, 2013
We've had our first tick removal of the season! If your dog goes into long grass or underbrush you should be checking daily by running your hands along their body and checking for suspicious lumps. Do not try to remove a tick yourself as this can cause damage to your pet. Sometimes a tick will bury their head into the flesh and that can remain under the skin if you pull off the body. Please book an appointment with your vet to have it removed. They will also send it away to be tested for lyme disease to see if your pet needs treatment. Cats are less likely to retain ticks as they are fastidious self cleaners and will often find and chew off ticks during regular grooming but it doesn't hurt to check them out anyway if they are going outdoors.
Hoping the May showers bring June flowers!
~Jen, Reception
---
---
May 2, 2013
Its finally spring! This means that baby animals will be or are already around. Every year people pick up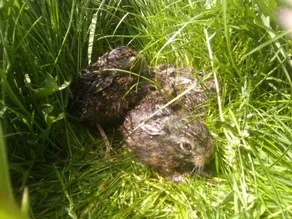 baby bunnies thinking they have been abandoned and will bring them in to a vet or a wildlife sanctuary to be taken care of. Unfortunately, most of these babies would have been fine if left alone. Mother hares and rabbits will often leave their young in a safe place during the day to avoid attracting predators to the area. If you see a baby bunny leave it where it is and mama will come back for it. For more information visit the web page for the Wildlife Rehabilitation Society of Edmonton. They have some wonderful information for what to do if you find baby hares, fawns, ducklings, chicks and nests of eggs. The information tells you when it is necessary to involve yourself and how to do so with maximum safety to yourself and the animal if one is found.
---
As the weather warms it becomes the season for fleas, lice, ticks and mosquito's. There is also a greater chance of your dog or cat getting worms. Ask your vet about flea/tick prevention and de-worming! There are also medications that will help fight off those nasty mosquitoes.
Wishing you a warm and happy spring!
~Jen, Receptionist
---
---
April 10, 2013
Now available are video's of little Carmen ringing her bell to go out to the bathroom and showing off her tricks. Its amazing how smart dogs can be at such a young age!
Ringing bell to go pee: http://www.youtube.com/watch?v=4BAJ8KoI3Ds&list=UURADxXnX2LI8hoN-U-jZJiQ&index=1
Basic tricks: http://www.youtube.com/watch?v=e4IZ38FOaCI&feature=youtu.be
Do you have any awesome pet videos? E-mail us and we'll post them to our website!
~Jen, Receptionist
---
---
April 5, 2013
Please give a warm welcome to our new part-time AHT Cayli! She joined our team a few days ago and her friendly, happy disposition has seen her fit in very well with our clinic. She is very knowledgeable and makes an excellent addition to our staff.
---
Check out this smart young pup! One of our clients recorded this wonderful video of her 3 month old German Shepherd Mix waiting patiently for her food, proving that its never too early to start training. This little girl already knows sit, high five, lie down, and shake and also knows how to ring a little bell when she needs to pee! I will try posting the video of her ringing the bell once I figure out how. In the mean time, click this link http://www.youtube.com/watch?v=DuylZ7CV5mQ&feature=youtu.be
Wishing you all a wonderful weekend!
~Jen, Receptionist
---
---
March 26, 2013
This month we have said "farewell" to our part time AHT Melodie and "welcome" to our new addition to staff Jennifer Jassal who shall be our additional Receptionist and Vet/Tech Assistant. We are looking forward to a busy spring and summer and the additional help will be a huge asset.
---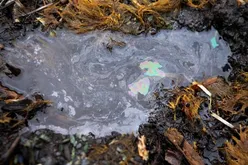 During the spring melt please keep an eye on your pet while on walks to make sure they are not drinking out of standing puddles. Puddles can contain harmful things such as de-icer, oil, gasoline, anti-freeze and runoff from yards that may contain traces of feces and could infect your dog with worms or parasites. As the year grows warmer puddles could also contain pesticides from treated lawns and gardens. If you suspect your dog has ingested a poisonous substance please contact your vet RIGHT AWAY. Time can be critical.
Hoping you all have a safe and happy spring!
~Jennifer (Receptionist)
---
---
March 21, 2013
Please be aware that there have been some pet food recalls in EVO, Innova, California Natural and HealthWise brands. For more information please follow this link: http://www.dogfoodadvisor.com/dog-food-recall/evo-innova-california-natural-healthwise-dog-food-recall/
---
We have a new Facebook page! Give us a visit and like our page.
---
Hoping you and your furry family stays warm during this "wonderful" spring blizzard.
Cheers!
~Jen (receptionist)
---
---
March 5, 2013
As it gets closer to the Easter Holiday this might be a good time to go over some safety tips when preparing your baskets and egg hunts. This can be a fun time for families with children but can also be dangerous for your pets. So let's assess a few hazards: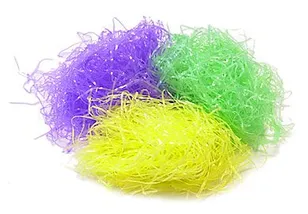 Easter grass is made of long, fun coloured strips of plastic that many people use to fill the bottom of baskets to hold wonderful treats and treasures, but it has the same risks as tinsel for your furry family members. If your cat (or dog) eats this stuff it can cause some huge problems. Sometimes it will pass harmlessly through your pet's digestive system, but other times it can cause a blockage and lead to an expensive and painful surgery or, if the funds are not available, euthanasia. If it DOES pass through, sometimes you will see a bit hanging out of the bum, either dangling there by itself or stuck inside feces. At ANY time if there is a string or something similar trying to pass DO NOT PULL ON IT! You may trim off trailing ends as they begin to pass but pulling on it can actually cause the intestine to bunch up inside the abdomen or even telescope inside itself which again requires an expensive and painful surgery to repair. A much safer alternative is to use paper or cardboard fake grass instead. If you must use the traditional plastic, make sure that it is stored safely away from pets and that you clean up any that may happen to fall on the floor.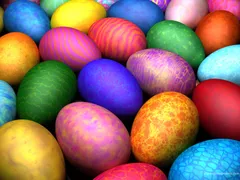 When planning your Easter Egg hunt, either inside or outside, remember that dogs will eat just about anything and these funky coloured ovoids will possibly be a treat they can't pass up. Eggs are usually fairly safe for dogs (and cats) in normal circumstances and small amounts but the shell can provide a bit of an issue. Trying to eat an egg with the shell still on could lead to cuts inside the mouth and along the intestinal tract causing your pet discomfort. If your dog manages to find ALL the eggs and eat them before the kiddies even have a chance that could lead to gastro intestinal upset with vomiting, diarrhea and stomach ache. If able, keep the pets on a leash or in a separate area for the egg hunt, or try putting the eggs in an area they can't reach.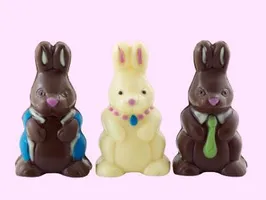 Easter isn't Easter without chocolate bunnies, chocolate eggs, chocolate chicks and more chocolate. While a human being can tolerate chocolate in large amounts, even a small portion can be very harmful to your cat or dog. White chocolate is safer because it doesn't contain cocoa, but milk or dark chocolate can be very dangerous. If your pet has eaten chocolate CALL YOUR VET RIGHT AWAY! DO NOT WAIT! Chocolate can cause vomiting, diarrhea, hyperactivity and hypersensitivity, increased heart and respiration rate, increased temperature and even seizures. In severe cases it can cause heart attack, coma and/or death. Make sure all chocolate is stored out of reach of furry muzzles. If you have cats, keeping it in a cupboard instead of on a counter or table top is the safest.
Some families will traditionally get together for an Easter feast with plenty of great food to go around, sometimes with dogs and cats running around looking for dropped food or a surreptitious handout. Sharing "people food" with your pets happens, but you have to be careful of what and how much you share. If your dog or cat has allergies or a sensitive tummy, consult your vet before giving ANYTHING. Safe things to share are carrots, broccoli, corn, potato, peas and green beans in very small amounts without seasonings, butter or sauces. If giving meat make sure it is well cooked, lean and free of bones. Also make sure that "Fluffy" isn't getting that small amount from 9 or 10 different people around the table. I'm sure we've all suffered the "too much of a good thing" gastro intestinal upset. Things to keep away from are garlic, onions, guacamole (avocado is a no-no for dogs and cats), fat, bones, dairy products, alcohol, caffeinated beverages, macadamia nuts, grapes or raisins, anything with a high sugar or salt content and any heavily spiced foods. This is by no means a complete list but your vet or animal health technologist will be happy to help you with any questions.
Easter is a time of year to treat children with sweets and small toys that can eventually get left around all over the place. Small toys can be hazardous to your pet because they will often still smell like the chocolate that surrounded them or whatever food or sweets were on the sticky fingers of the child (or adult?) that received them. If eaten they can cause choking or a blockage in the stomach or intestinal tracts and can lead to, you guessed it, an expensive "foreign body retrieval" surgery. Again, keeping these things out of reach of questing noses is the safest policy.
Although we don't recommend giving live animals as gifts, many children receive baby bunnies and chicks at Easter time. This may be obvious, but cats and dogs will often see these as prey. If you plan on giving your child an Easter pet please make sure to keep it in a safe cage or enclosure that your cat or dog can not get access to.
Well, I've covered everything I can think of at this point, but if there's anything else you can think of that would be a great tip for others, please e-mail us at westsideanimalclinic@shaw.ca and we will be happy to post more tips on our news blog.
Hoppy Easter!
~Jen, Receptionist
---
---
February 8, 2013
Good news! We are now set up to e-mail vaccination reminders as we have been having some issues with people not receiving their "snail-mail." If you would like to be set up to have your reminders e-mailed to you instead of going through the post please contact us via telephone at 780-481-4393 or e-mail us at westsideanimalclinic@shaw.ca .
---

During our unconditionally mild temperatures it is a good time to remind you about ice safety. We have a lot of small man made ponds and lakes in the area and while out on your walks please be sure that your dog stays off the ice as it may not be thick enough to hold their weight, even if they are very small. If your dog does fall through the ice call 911 for assistance and once your pet is rescued they should see a veterinarian immediately as hypothermia and/or water in the lungs are very serious health risks.
---
The ABVMA reports that there have been some voluntary recalls on certain jerky treats. The affected treats are as listed:
Milo's Kitchen Chicken Jerky Treats and Chicken Grillers
Waggin' Train and Canyon Creek Ranch jerky treats
For more information please read this article.
Hoping the weekend sees you all well!
~Jennifer, Receptionist
---
---
January 16, 2013

To go along with dental "month" we've got a wonderful website provided by Hills Prescription Diets, all about pet dental care! There's video's and information, a wonderful photo album, and even a sweepstakes you can enter. Check it out!
---
The ABVMA (Alberta Veterinary Medical Association) has confirmed a case of rabies in a bat in Calgary. In light of this news, please make sure your pet is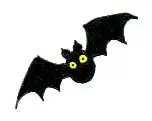 protected and is up to date with his/her vaccinations. The rabies vaccination is usually given to a pet at about 4 months of age, repeated a year later, and is boosted every 3 years thereafter. If you are concerned about the vaccination status of your pet please call or e-mail our office and we will be happy to help.
Cheers!
~Jennifer, Receptionist
---
---
January 15, 2013
Welcome to Dental Month!
Actually, Dental Month is more like Dental Quarter since it is about 3 months long, lasting from January 1, 2013 to March 30, 2013. All patients booked for a pre-dental exam will receive a complimentary dental care package. All dental procedures completed during this time will include a complimentary small bag of Hills T/D oral care food for either dogs or cats.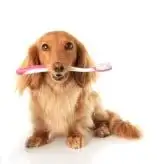 ---
During this week's warmer weather it is a good idea to be cautious when taking your dog for a walk. Don't let your pet drink out of puddles as they may have gas, oil, or various de-icers in them that could seriously harm your pet. If you suspect your dog or cat has been drinking out of puddles and has vomiting, diarrhea, or is lethargic, please see a vet right away! Also, after walks, it is a good idea to wipe your dog's feet with a warm cloth to remove any de-icer that may have gotten stuck to paws as this can cause irritation of the skin or gastrointestinal problems if it is licked off. Once the weather dips below freezing again, be aware that the re-frozen slush becomes sharp ice which can scrape or cut your dog's feet.
Hoping the week finds you well, and we are always happy to help with any questions or concerns you may have, so feel free to call, e-mail, or drop in at the clinic.
Cheers!
~Jennifer, Receptionist