September 7 2016
Alberta Agriculture and Food would like to share the following information; Several bats in Alberta have tested positive for rabies this summer. Below is a quick summary of the dates, locations, and other details.
1) Airdrie, Silver Haired Bat, June 7
2) Red Deer, Big Brown Bat, July 25

3) Medicine Hat, Western Small-Footed Bat, Aug 11
4) Edmonton, Hoary Bat, Aug 11
5) Waterton Park, Western Small-Footed Bat, Aug 12
6) Ponoka, Big Brown Bat, Aug 17
Cases 1 and 2 have previously been reported in the ABVMA e-news.
Case 3, a Western Small Footed bat, was caught by an unvaccinated cat near Medicine Hat. The cat is now undergoing a 3 month quarantine period.
Case 4, a Hoary bat, was found on the street in Edmonton and taken to a local veterinary clinic for submission. There is no known human or animal exposure with this case.
Case 5, a Western Small Footed bat, was found in Waterton National Park with no known human or animal exposure.
Case 6, a Big Brown Bat, was caught and killed by a vaccinated dog outside of Ponoka. The dog is undergoing a 45 day quarantine period.
Please ensure your cat or dog is up to date on their rabies vaccines, even if they are an "Indoors Only" pet. Bats that are sick with rabies will often try to climb into peoples homes.
Never handle a bat without adequate protection.
---
Want some peace of mind? Ask us about a pet insurance trial with your next scheduled exam!
---
---
October 8th 2015,
With Thanksgiving fast approaching we'd like to give you a few reminders to keep your pets safe.
Remember that bones can chip or fracture teeth and pieces may get lodged in the throat or intestine leading to a costly recovery procedure. Make sure all turkey and ham bones go into a garbage that your pets can't get into.
A lot of people can't resist giving table scraps, but for pets with sensitive tummies this can lead to upset stomach, vomiting and diarrhea. Too much fat can lead to pancreatitis.
As much as your dog wants to, don't let him/her help with the dishes. :) Paws are terrible at holding soapy ceramic and he/she probably wouldn't finish the job anyway.
Have a safe and happy holiday! Stay tuned for Halloween tips to keep your pet safe and happy!
~Jen, Reception
---
---
April 15th, 2015
Did you know that with the warmer winters we've been having fleas and ticks (and even lice) are making a bigger appearance in Alberta? Come talk to your vet about prevention and treatment!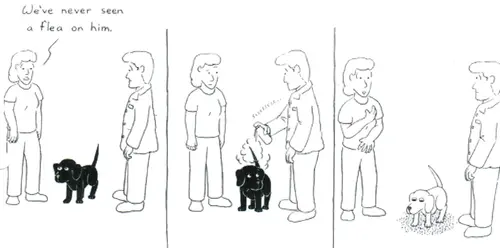 ---
---
February 6th, 2015
After all this time we finally published the new client/patient forms to the website! If you have any suggestions for other forms you might like to see feel free to call or e-mail to let us know.
---
We are celebrating Dental Month during February and March. If you bring your pet in for a dental exam or dental cleaning we can send you home with a complimentary bag of the T/D diet from Hills! We are also offering free toothbrushes and a sample of pet toothpaste during these months.
---
Stay warm everyone!
~Jen, Reception
---
---
January 24th, 2015
First off, HAPPY NEW YEAR!
Secondly, did you know that bones can be dangerous for your pet? Here's why:
Here are 10 reasons why it's a bad idea to give your dog (or cat) a bone:
Broken teeth. This may call for expensive veterinary dentistry.
Mouth or tongue injuries. These can be very bloody and messy and may require a trip to see your veterinarian.
Bone gets looped around your dog's lower jaw. This can be frightening or painful for your dog and potentially costly to you, as it usually means a trip to see your veterinarian.
Bone gets stuck in esophagus, the tube that food travels through to reach the stomach. Your dog may gag, trying to bring the bone back up, and will need to see your veterinarian.
Bone gets stuck in windpipe. This may happen if your dog accidentally inhales a small enough piece of bone. This is an emergency because your dog will have trouble breathing. Get your pet to your veterinarian immediately!
Bone gets stuck in stomach. It went down just fine, but the bone may be too big to pass out of the stomach and into the intestines. Depending on the bone's size, your dog may need surgery or upper gastrointestinal endoscopy, a procedure in which your veterinarian uses a long tube with a built-in camera and grabbing tools to try to remove the stuck bone from the stomach.
Bone gets stuck in intestines and causes a blockage. It may be time for surgery.
Constipation due to bone fragments. Your dog may have a hard time passing the bone fragments because they're very sharp and they scrape the inside of the large intestine or rectum as they move along. This causes severe pain and may require a visit to your veterinarian.
Severe bleeding from the rectum. This is very messy and can be dangerous. It's time for a trip to see your veterinarian.
Peritonitis. This nasty, difficult-to-treat bacterial infection of the abdomen is caused when bone fragments poke holes in your dog's stomach or intestines. Your dog needs an emergency visit to your veterinarian because peritonitis can kill your dog.
Thanks for reading! Stay safe on those icy sidewalks!
~Jen, Reception
---
---
June 3, 2014
We're in the news! Check out this article about the paper cranes we offer for donations to rescue societies! (If link is not working copy and paste http://www.edmontonexaminer.co... into your browser's address bar!)
~Jen, Reception
---
---
May 15, 2014
We have found our first tick of the season. Yuck! These guys can be found in scrub and long grass. There are flea and tick infestation preventions available at your vet clinic. If you have any questions just call!
~Jen, Reception
---
---
April 3, 2014
Why choose us to do your pets spay or neuter?
Our team does 1 – 2 surgeries a day allowing us to spend more time with your pet before and after surgery
Doing only 1 – 2 surgeries a day means that the pets are out of anesthesia by early afternoon and are much more alert and awake when they go home.
Having fewer patients in clinic means that there is less noise and commotion, making recovery from anesthesia more comfortable for them.
If you are a regular client your pet will spend the day with people he/she knows and trusts instead of strangers
Post-operative rechecks pertaining to the surgery are complimentary
Other procedures can be done at the same time such as dewclaw removals, retained baby tooth extractions, vaccines, lump removals etc.
We offer nail trims and tattoos complimentary with the procedure
---
---
February 13, 2014
Good News! The little dog Truffles was found and is now back with her owner. :)
---
Jen the receptionist will be leaving for Mexico this Saturday and will be gone for one week. We hope this does not cause inconvenience for anyone. She will be back on February 25th with a lot of pictures and possibly a sunburn.
---
We will be closed February 15th through 17th for the Family Day long weekend. We will reopen Tuesday February 18th at 8am for regular business hours. If you have an emergency please contact Edmonton Veterinarians Emergency Clinic, Guardian Veterinary Centre, or VetEmerg.
---
Wishing you all the best!
~Jen, Reception
---
---
February 8, 2014
Please keep an eye out for this little guy that was last seen in the Hampton's area last night.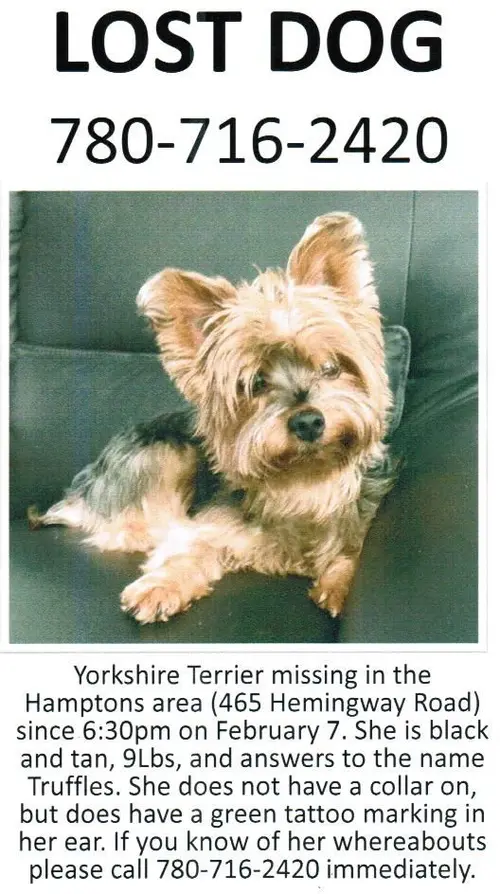 ---
---
January 28th, 2014
After careful consideration we will be raising our prices for the first time in 3 years. All services except for nail trims and anal gland expressions will go up by 10% at the end of February 2014.
Thank you for your continued support! We will continue to be the best we can be for you and your beloved furry, feathery and scaly friends.
---
Wishing you all the best and a wonderful week!
~Jen, Reception
---